What's The Difference Between Scrum Master and a Business Analyst?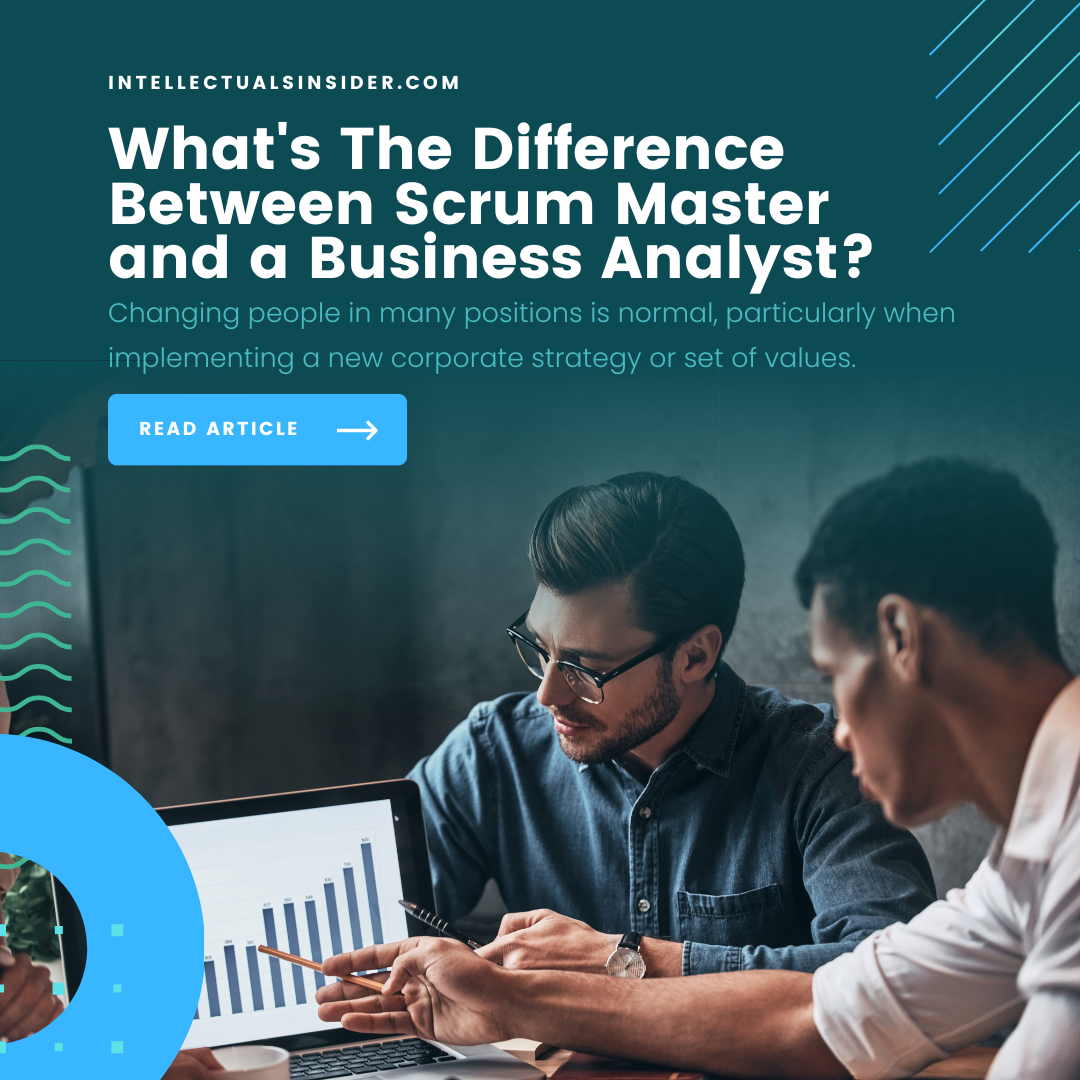 Changing people in many positions is normal, particularly when implementing a new corporate strategy or set of values. Business analyst and scrum master roles are common examples of this.
Often, a firm will designate a single individual to act as the scrum master while implementing agile transformation. The business analyst is frequently promoted to this role on the false assumption that the two sets of abilities required are equivalent.
Although the roles of a business analyst and a scrum master may seem superficially similar, there are important distinctions.
A business analyst's emphasis is different from that of a scrum master. Regarding productivity, reliability, and progress, it's the scrum master's job to ensure the team is always improving. On the other hand, a business analyst takes a more dispassionate view of things like product backlogs, customer wants, marketing tactics, etc., and the firm itself.
How likely would a business analyst fill in for a scrum master or vice versa? If you're curious about the same thing, stay reading because we're about to explain everything.
How Does a Business Analyst Differ from a Scrum Master, and What Do They Have in Common?
The responsibilities of a scrum master and business analyst are crucial to the success of any agile project. Similar abilities are commonly called for; however, their expression and use may vary widely. This is the area where people tend to become confused about the differences between them.
Business Analyst vs. Scrum Master
A project's scrum master ensures that the scrum framework is effectively used. Scrum has become a prominent methodology in the software development business, and this role is rather typical in that setting.
Scrum, on the other hand, is predicated on an agile framework in which issues are solved using methods that foster both teamwork and individual responsibility.
A scrum master's primary responsibility is to facilitate the successful implementation of the scrum framework. These responsibilities may include coaching, mentoring, or facilitating a process.
On the other hand, business analysts focus on the more technical side of running a company. Their job is to ensure that all of the operational procedures work in tandem to achieve company objectives and boost customer satisfaction.
They commonly collaborate with the technical teams on projects to acquire, assess, and verify requirements.
Duties of a Business Analyst and a Scrum Master
Instruction in the scrum methodology.
The scrum master is responsible for ensuring that everyone in the team has received enough training in the scrum framework and agile methodology.
The team ensures everyone is on the same page about the scrum methodology and principles goal.
Also, they showcase the essential procedures, components, aspects, and strategies stated in the strategies' plans of action.
Mentoring employees on how to use the Scrum framework.
Scrum masters are responsible for guiding their teams through the steps of applying the scrum framework, which includes tactics and empirical methodologies for finishing complicated projects. More importantly, they ensure that everyone on the team is doing their part and doing it well in terms of efficiency, discipline, and self-management. They also explain the notion of cross-functionality in detail by bringing together a team of experts from several fields to collaborate on a single project.
Facilitating the attainment of high-value outcomes and the identification of performance-based increases for team members.
Scrum masters provide extensive coaching, particularly at the start of a project's execution. By doing so, you can be certain that everyone on your team will acquire the know-how to provide high-quality work that propels your project forward. Moreover, scrum masters assist team members in determining the most appropriate increment for task delivery based on the key signs of success.
Facilitating an environment where people feel both comfortable and able to get work done.
A scrum master's most important responsibility is creating a positive and secure workplace for the team. Anyone in this role should know the value of creating a secure space where team members may share their thoughts without fear of retaliation. The scrum master also ensures that any unnecessary distractions do not slow progress. It helps ensure that scrum practices are implemented without any hiccups
Gets rid of roadblocks that may otherwise get in the way of efficiently implementing agile practices.
Scrum masters maintain order by monitoring both individual and team performance. But also by foreseeing problems that may arise throughout the framework's implementation and the extent to which they could hinder it.
Tasks Assigned to Business Analysts
Creating an in-depth evaluation of the company.
The business analyst's major responsibility is to shed light on the present and future of an organization or a certain division. Business analysts need to be well-versed in gathering data (such as surveys, interviews, workshops, and SQL code) and then analyzing that data to draw conclusions and recommend courses of action to help bring the company's objectives to fruition.
Researching the market.
When releasing new goods or examining the current state of a company, business analysts play a vital role in market research. Customers' demands and the project's or company's progress in meeting those needs are better understood via regular communication between the customer and the scrum team's customer advocate, who has quickly become an integral component of the scrum team alongside the product owner.
The answer to this question heavily depends on the squad's composition. When a new product is launched, the Product Owner may fill the business analyst position.
Additionally, a Product Manager position might be created to steer the product's future development. Therefore, the Product Owner and the Product Manager would divide the business analyst duties.
Nonetheless, all three jobs may collaborate to complete the project, and we'll look at where exactly the Business Analyst fits in a little later in the piece.
Clarifying the needs of the company.
The top business stakeholders provide their approval once the business analyst has defined and managed the requirements that the implementation team must follow.
They use methods that include reading through relevant paperwork, seeing an employee in action, conducting interviews, analyzing data, holding seminars, etc.
The business analyst will check that all criteria have been met once any modifications have been made. Business analysts are often called "change agents" by those in the know.
They motivate the company to change its procedures or use new technologies to boost productivity and efficiency.
Analyzing data and doing financial and operational simulations.
Information gathering is not all that business analysts do. But they put in the time and effort to learn about it and use the information they gather to build operational and financial models suited to the business's desired future condition.
Their knowledge and experience in business, operations, and information technology are crucial to completing these activities. As a result, there is a lot of teamwork across departments.
Participating constructively in planning and forecasting processes.
Company analysts are crucial in financial planning and creating long-term business and project strategies due to their contributions to budgeting and forecasting.
If you know what needs to be done to reach your company's goals, you'll have a better idea of what it could cost and what adjustments you want to make. These findings influence the business's future technological decisions, operational tweaks, and schedule adjustments.
Qualifications Needed for a Business Analyst or Scrum Master
     There is no set of prerequisites that a Scrum master must meet. Instead, most employers investigate your background and education.

·        Therefore, your chances of being employed increase proportion to the number of projects you've managed in the past or the extent to which you've been engaged in adopting scrum approaches.

·        Bachelor's degree required; preferably in Information Technology (IT), Business, or a closely related discipline.

 

·        The role of the business analyst is one of the most visible in any firm. The responsibilities and authority of the job might vary widely based on the company's structure and the personalities of its owners and upper management.

·        A master's degree in business administration is often required for senior and strategic business analysis positions. It may, however, be sufficient to have relevant project experience or certifications. Having direct project experience, technical business analysis skills, and exposure to a certain industry, such as finance, healthcare, or niche manufacturing, is more crucial.

·        The required education level is a bachelor's degree in business, information technology, or a closely connected profession.

·        Experience as a business analyst for at least five years.

·        Equipped with cutting-edge technological expertise

·        Strong skills and understanding of business analysis and implementation.

·        High level of project management expertise

 
Is It Possible for a Business Analyst to Also Serve as the Project Manager for a Scrum Team?
Business analysts may serve as scrum masters with the right training and certification. To fill the scrum master role and get the certification, most firms search for candidates with a background in IT or business.
If you're already in the field as a business analyst and have done your homework, you've got a good chance of being hired. Despite your business experience, you may wonder why training and certification are still necessary steps to becoming a scrum master.
Here we see the most significant distinction between a business analyst and a scrum master. Scrum masters oversee groups intending to improve their responsiveness and productivity.
They focus on fostering team cohesion and investigating any internal friction hindering effective communication and cooperation amongst groups. As a scrum master, you must have a firm grasp of agile concepts to carry out your obligations effectively.
Regrettably, these ideas, procedures, and specialized abilities are more broadly applicable after formal training, not merely through prior company experience.
As a business analyst, your focus is on streamlining processes throughout the company and within individual departments; yet, you may not always consider how to improve efficiency within your teams or investigate new methods of working like agile. Guarantee that they internally share work most effectively is not part of your job description. Rather, meeting needs and changing people, technology, and procedures to reach business goals is.
As a result, if you're a business analyst and you've been given the role of scrum master without having the appropriate qualification, there's a greater chance that you'll fall short or have trouble carrying it out.
Scrum Master or Business Analyst: Who Gets Paid More?
Scrum masters earn more than business analysts. Scrum masters' salaries, although surprising, are commensurate with the value they provide to their companies.
When scrum masters do their jobs well, the company benefits in many ways over time. Whether they're hired for a short period or remain with the organization for many years, Scrum masters are always valuable assets.
They keep the development team's gears turning smoothly by ensuring that all of the company's internal processes are in sync with one another, saving time and money. It's only right that the scrum master's remuneration reflects part of the cost reductions.
In Scrum, What Role Does a Business Analyst Play?
Business analysts in agile or scrum teams may be expected to groom product backlogs and provide input on their priorities. To some extent, Business Analysts act as go-betweens between clients/business needs and agile development teams.
So, they go beyond just adhering to agile principles and practices and become more innovative or adaptable in their positions. Because of this, they're now an integral part of the scrum team.
The scrum business analyst's role in product backlog grooming includes the following responsibilities.
Assess the requirements of your target market.
Business analysts engage in conversations with end users to better understand the problems and requirements of a product or service. The developer and business analyst team will use this information and the identified core issues to create workable solutions.
Depending on their degree of comprehension, they will divide these roles between a Product Owner and a Product Manager. Specifically, a business analyst will be providing that level of information.
Create a user case study.
One of the most important parts of agile software development is the user narrative, which conveys the product's value to the development team.
Additionally, it helps them achieve their objectives by providing the means to develop a stronger, more user-centric structure. One definition of a user narrative is an informal explanation or description of the software's most important features written from the end user viewpoint.
The business analyst writes these tales in certain cases in response to specific criteria. The product owner may be the one to sketch the user narrative, while the business analyst is responsible for reviewing the details and making sure they are in line with the business standards.
Talk things over with the people who have a stake in the outcome.
Agile software development aims to eliminate ambiguity between the product owner, the customers, and the scrum team. The business analyst is often responsible for this, at least in terms of the technical components of the company.